Dogs that we have retired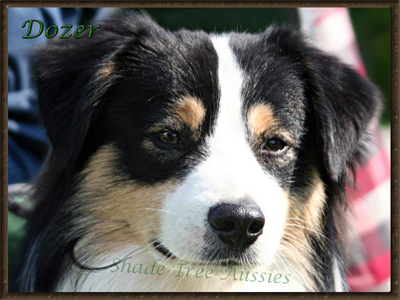 Timberline Hez Bad To The Bone, known as "Dozer".

We kept back so many Dozer daughters we felt it was time for him to be a good sire for someone else that would appreciate the quality dog and sire he is. So, Dozer now belongs to Sweet Mini Aussies in Louisiana where he will soon have sons and daughters for sale.
To learn more about Dozer please visit his page ~ Dozer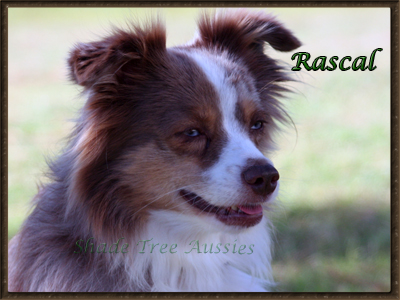 Heza Blue Eyed Rascal
Rascal has been retired. He has certainly produced some fine dogs that will be an ongoing influence in our program. He will be staying here at Shade Tree Aussies.
To learn more about Rascal please visit his page ~ Rascal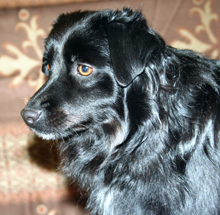 Sheza Little Bit Rock N Roll, known as "Marie"
We think this is the best dog we have ever produced. She is the prettiest moving, most correct dog I have ever had the chance to put my hands on. She has produced some amazing offspring that are still making waves in the show world.
To learn more about Marie please visit her page ~ coming soon
Super C The Power Within

"Ruby" is now living her best life as a retired companion for one human. She has the perfect job for her, holding down the couch.
She was an awesome show dog for us and produced some winning babies that are following in her footsteps.
To learn more about Ruby please visit her page ~ Coming Soon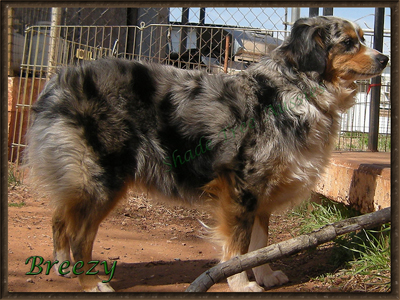 Sheza Easy Breezy Cover Girl "Breezy"
Breezy is now living the high life with her new human. She is treated like the queen she knows she is. She moved in with 2 people and 3 larger dogs. She slowly took over the house with one lip curl. The 3 larger dogs now give her whatever she wants. I get to see Breezy once in a while. She just adores her human and is always by her side. She will say hi to me but she makes it know she is going with them.
She was the best momma dog we ever had. She would take any other females puppies. Often when it wasn't welcome. She showed like the champion that she is. The best travel and bed buddy you could ask for.
For more information about Breezy please visit her page. Coming Soon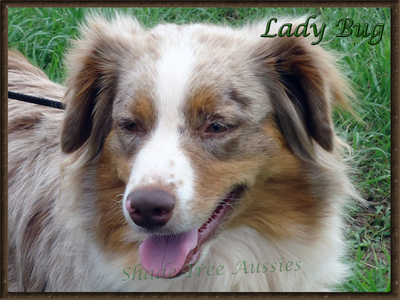 Timberlines Sheza Lady Bug
Lady Bug is as sweet a dog you will ever meet. She is now retired and loving life. She gets to ride everywhere they go and sleep in a bed with a human every night.
Lady Bug is Little Red's Mother.

For more information about Lady Bug please visit her page.~ Lady Bug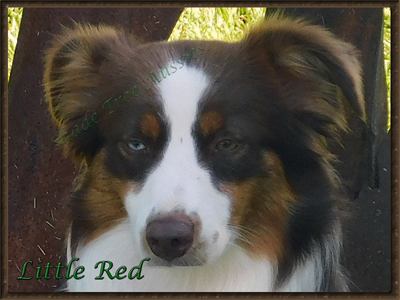 STA Shez Easy On The Eyes known as Little Red is a Miniature Australian Shepherd.
Little Red has been a great partner in whatever we wanted to do. She has to be the best travel buddy we own. She is as sweet as can be to most people but once in a while, she meets one she doesn't care for. She doesn't get mean about it, she just won't let them touch her or me.
She has produced 3 litters for us.
Little Red is CJ's mother.
For more information about Little Red please visit her page.~ Page coming soon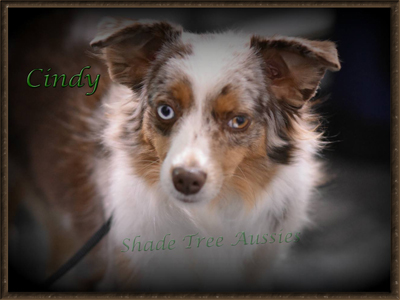 Sheza Little Red Racer
To learn more about Cindy please visit her page ~ "Cindy"
Cindy has gone to live with one of our long-time customers. She is living the good life teaching her new humans how to do agility. Really, she is showing her how to do it. We miss her sweet personality and her ability to keep the younger ones in line.
Toy Australian Shepherd
Black Bi Female
Date of Birth 11/4/2015
Brown Eyes
Docked tail
Sage is happy being the queen of the house. She and Jess have a very special connection so Sage will live out her retirement years with Jess.
To learn more about Sage please visit her page ~ "Sage"