STA Sheza Little Bit Of Trouble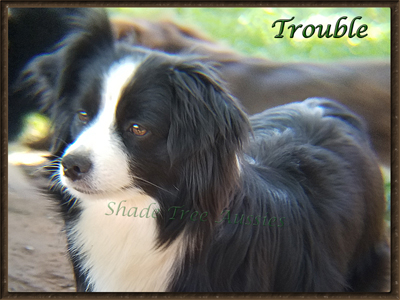 Miniature Australian Shepherd
Black Bi
Date of Birth 11/4/2015
Docked tail
Testing: both parents CEA, DM, HC, PRA clear
Titles:
AKC: CGC
ASDR: Gold Elite conformation
APRI: Champion conformation, 1 out of 3 perfect scores to a Par Excellent title
ICKC: Shown as a puppy, no title yet but lots of firsts and higher
IHDA: titles yet to be earned
Trouble's Photo Album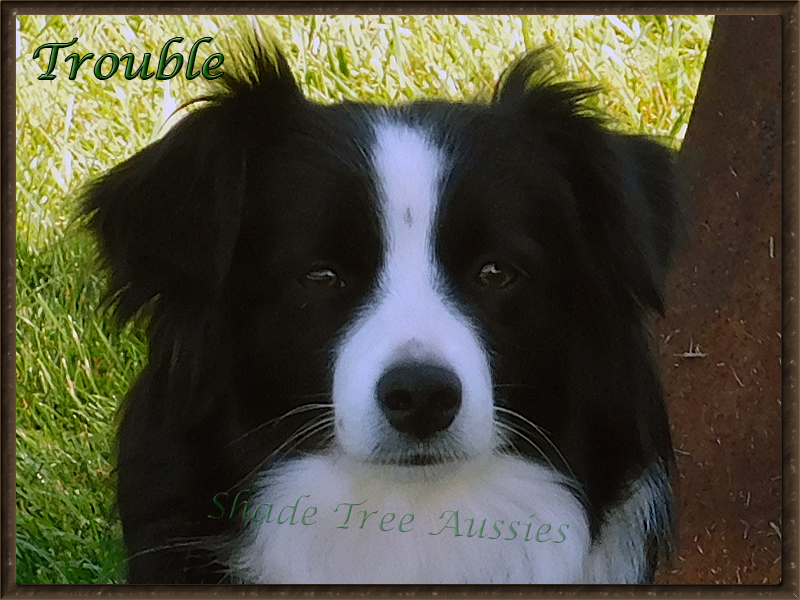 Trouble traveled far and wide in 2016 while showing with ASDR.
This picture was taken in Kentucky at the Woodford distillery.



Just hanging out in the front yard on a nice summer day.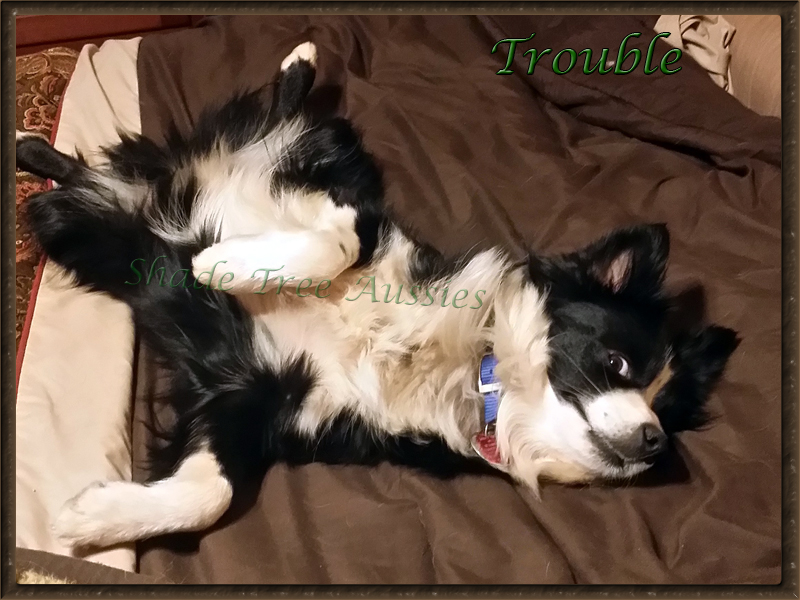 Trouble can be a pretty silly dog too. Here she didn't want to get out of bed.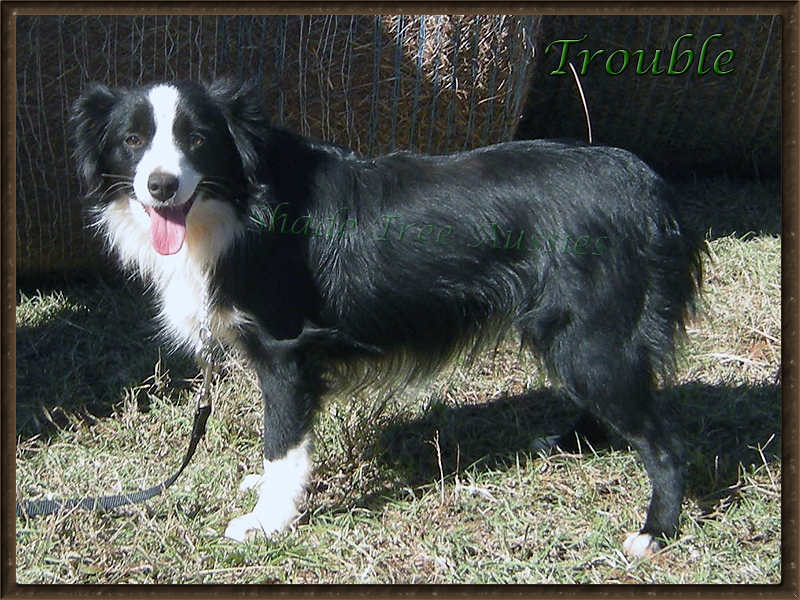 Trouble out of shape but still a pretty girl.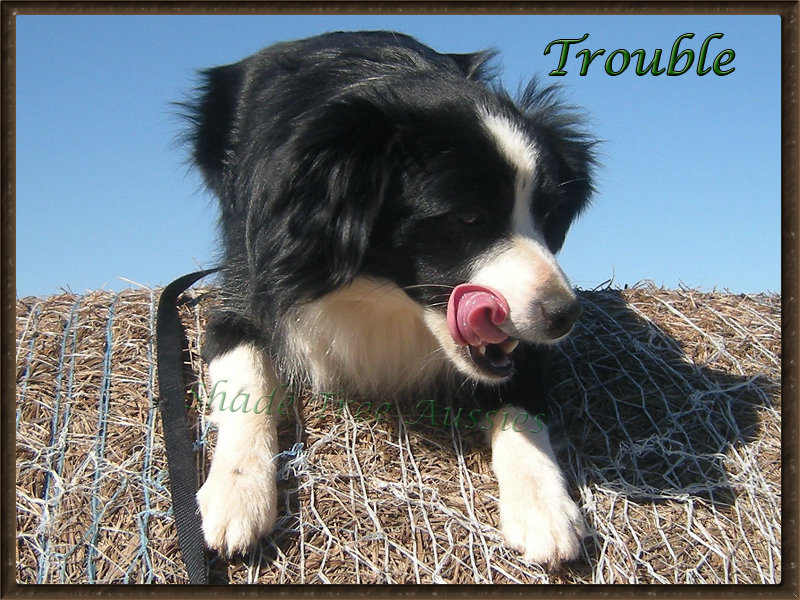 Silly Trouble playing on the winter hay stores.


Trouble hanging out in the yard with her friends.


Trouble earning her first title as a puppy at the Crawfordsville ASDR show in 2016.



At 13 weeks old it was plain to see she had a lot of personality.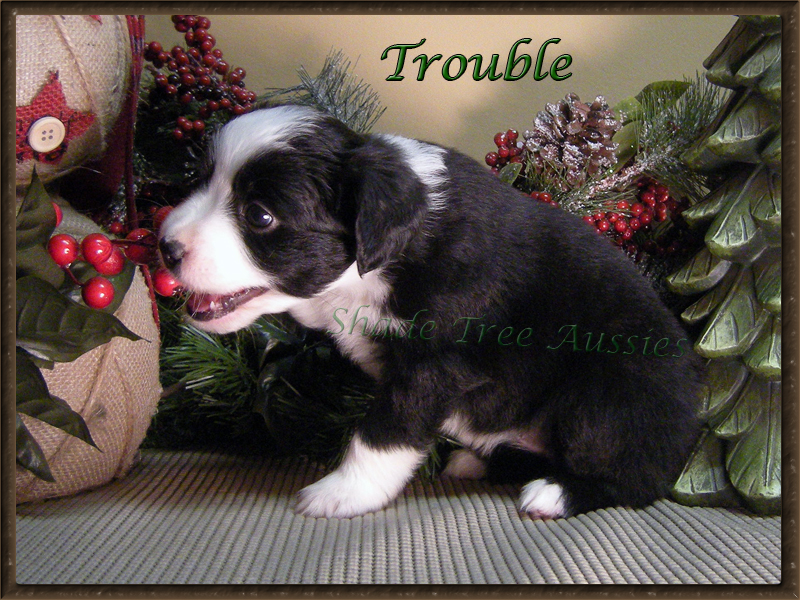 Even at 8 weeks old she was a little bit of trouble.

Troubles Titles and testing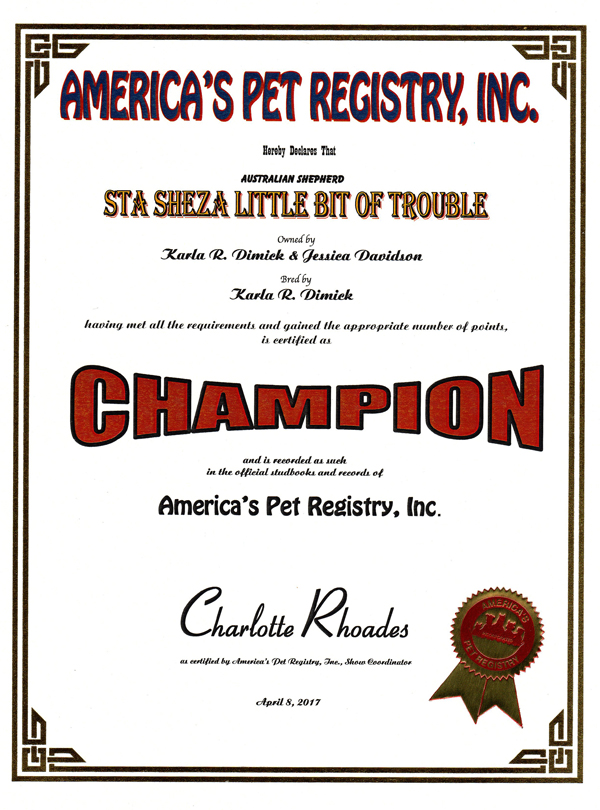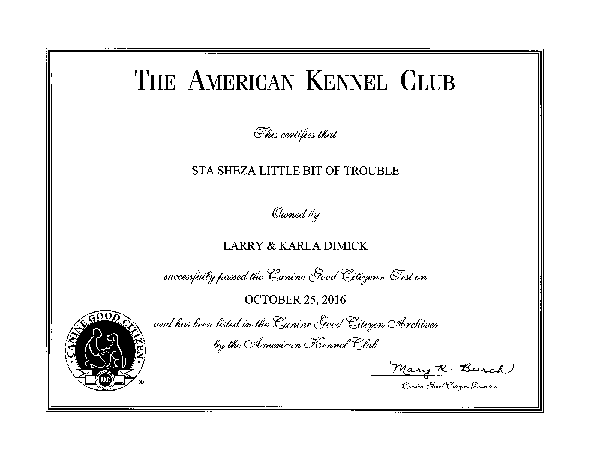 Trouble's sire and dam tested clear for CEA, DM, HC, PRA
Please use the links below to see her parents
We do not test for MDR1 as we believe they should all be treated as if they were affected.
There have been far too many dogs that have re-acted up to death that were tested negative.
If there is a puppy/dog that you are interested in and need to have a clear MDR1 test, we will test them at your expense.
Trouble's sire: "Dozer" Timberline Hez Bad To The Bone
Please visit Dozer's page under retired dogs to see his titles and testing ~ "Dozer"

Trouble's dam: Shade Tree Aussies Sheza Little Bit
Please visit Marie's page under retired dogs to see her titles and testing.~ "Marie"