STA Ima Blue Eyed Dream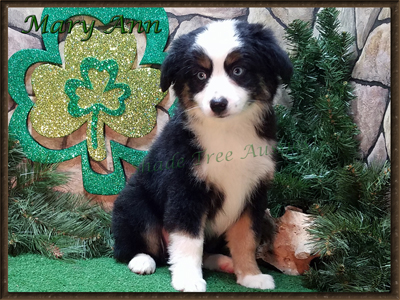 Small Miniature Australian Shepherd
Blue eyed black tri
Date of Birth, 12/15/2018
Sire Heza Blue Eyed Rascal
Dam Sheza Little Bit Of Trouble
Estimated size Large Toy to Small Mini
We took Mary Ann to her first show in Kansas. She was a perfect dream to show. She handled all the new sites and sounds like a seasoned show dog.
Mary Ann is a double blue eyed black tri, female Miniature Australian Shepherd. This little girl is as sweet as can be. She sure likes to give kisses. She is turning out to be a nice enough young lady to consider her for a keeper for us.
Mary Ann's Photo Album

This isn't the best picture of Mary Ann as I took a puppy bone away from her, but she is still a lovely girl.
Above pictures were taken at 9 weeks old.

Kisses anyone?
The above pictures were taken at 8 weeks old.
Above pictures were taken on January 19, 2019.